COVID-19 Vaccine
You may call our Immunization Department at 989-758-3840 to schedule your appointment with us now.
If under the care of a physician or specialist for a condition that suppresses the immune system OR taking medications that have the ability to suppress the immune system, a written physician's order is required to be faxed to (989) 758-3809 PRIOR to vaccination. COVID-19 vaccination must be deferred for 14 days after receipt of other vaccines.
COVID-19 vaccination must be deferred for 90 days after receipt of passive antibody therapy as treatment for COVID-19.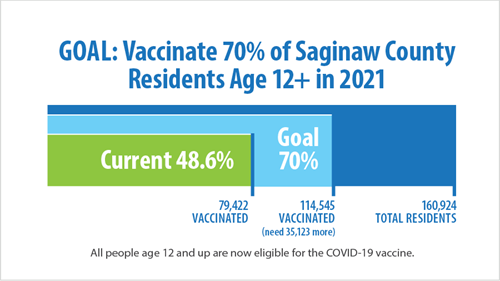 To view all of our vaccine related updates, go to our COVID-19 Vaccine Updates page here.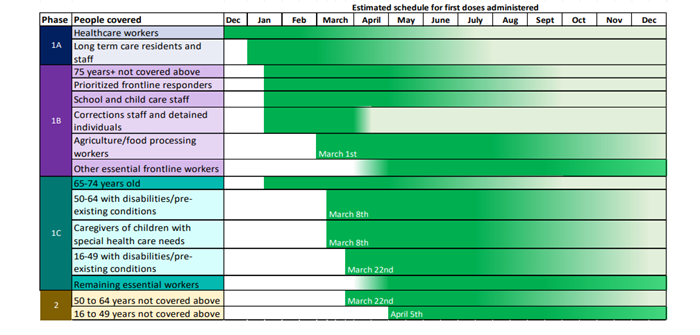 Many vaccines aimed at preventing COVID-19 are currently being developed and tested in the United States, with three COVID-19 vaccines now available as supply allows. Three companies - Pfizer, Moderna, and Johnson & Johnson - have completed Phase III of testing and have been granted Emergency Use Authorization (EUA) from the U.S. Food and Drug Administration (FDA).
Vaccine manufacturers will release a limited supply of COVID-19 vaccines during the first few months that they are available.
Distribution
The Advisory Committee on Immunization Practices (ACIP) has recommended that residents and employees of nursing homes and similar facilities and health care workers be the first people in the United States to receive the COVID-19 vaccine. States have the option to tailor vaccine priorities for their state. 
Michigan has released prioritization guidance in accordance with the ACIP:
Phase 1A includes paid and unpaid persons serving in health care settings who have direct or indirect exposure to patients or infectious materials and are unable to work from home, as well as residents of long-term care facilities.
Phase 1B includes workers in essential and critical industries, including workers with unique skill sets such as non-hospital or non-public health laboratories and mortuary services.
Phase 1C includes people at high risk for severe COVID-19 illness due to underlying medical conditions, and people 65 years and older. 
Phase 2 is a mass vaccination campaign for all individuals 16 years and older. 
COVID-19 vaccine planning is being updated as new information becomes available. Receive updates from the Saginaw County Health Department by registering your email address.
For answers to frequently asked questions regarding the vaccine, please visit our Frequently Asked Questions page here.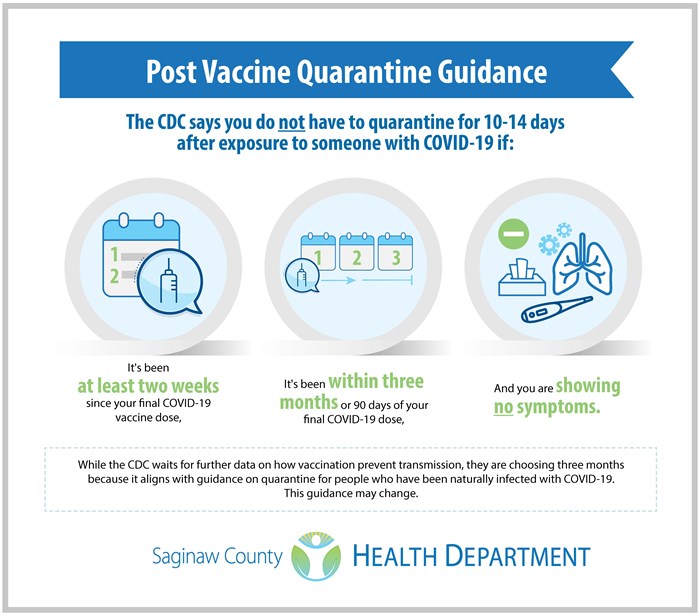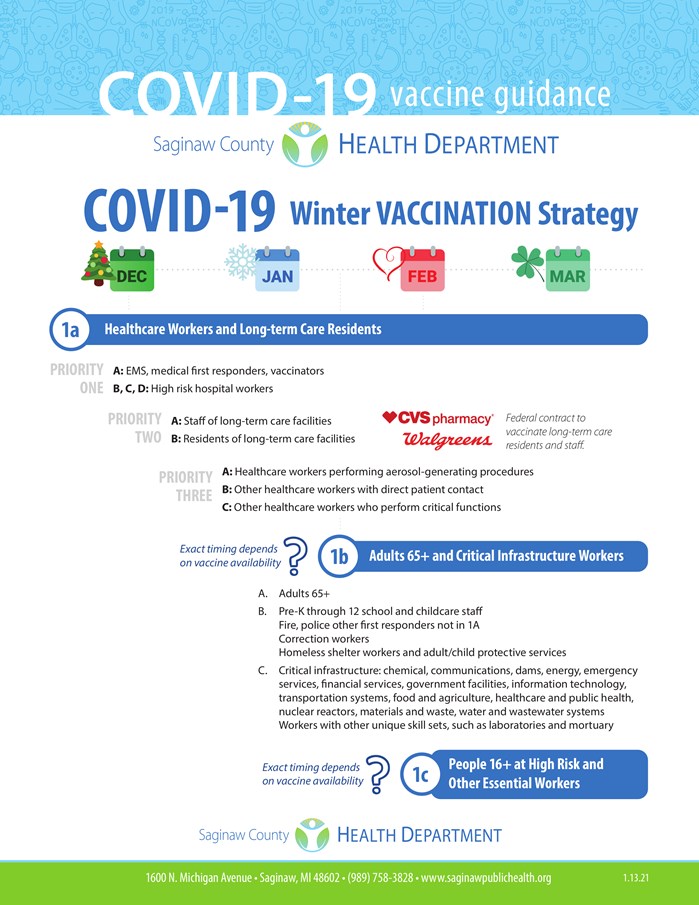 What does this mean for me? 
Initial vaccine supplies are expected to be small. The first priorities include health care workers providing direct care, people who will be vaccinating others, and residents in long-term care settings.
For everyone else, please be patient. It may take weeks or months to move through the phases, depending on supplies and as illustrated below. We are working as fast as possible to provide more detailed information. 
There will be no cost to individuals for the COVID-19 vaccination.